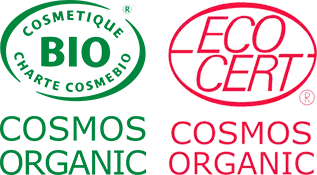 All skin types

Firming

Liquid

Day and night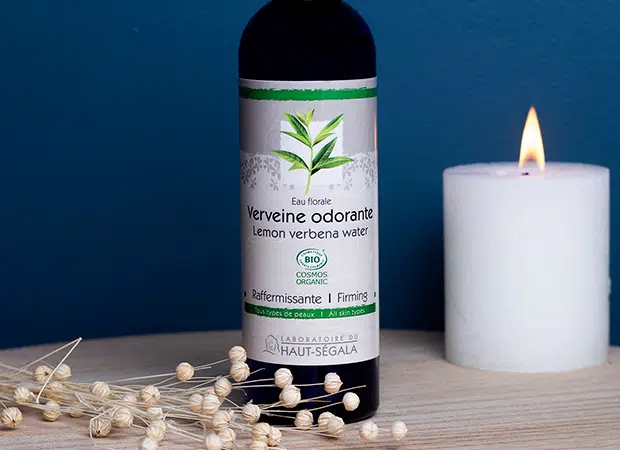 Product certified Cosmos by Ecocert and labeled Cosmebio
Floral water obtained by distillation
Packaged in France in our laboratory
Suitable for pregnant women
Sweet, fresh, lemony scent
Benefits

Face
Brightens the complexion
Refines skin texture
Refreshes the skin
Tonifies
Gives a luminous complexion

Body
Reduces cellulite
Invigorating, brings tone and firmness to the skin
Lemon verbena (or lemon verbena) is a plant known for its calming, relaxing and sedative properties.
Organic certified fragrant verbena floral water softens and refreshes the skin while restoring tone and firmness. It brings an invigorating feeling and helps to firm the tissues.
Very softening, it also helps combination to oily skin to have a luminous complexion.
It reduces cellulite by firming the affected skin areas.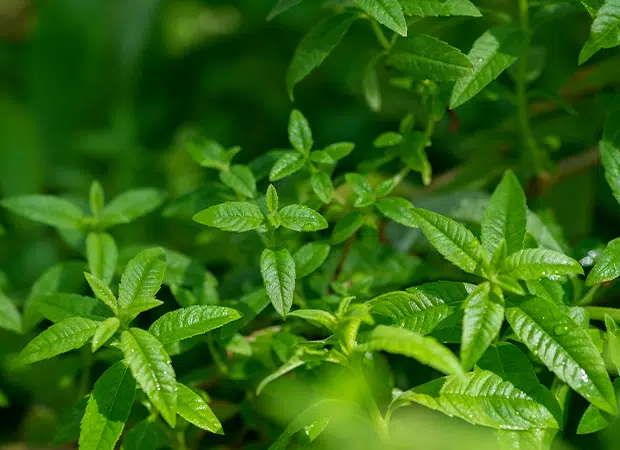 How to use it
In the morning, spray the floral water on a cotton ball or directly on your dry skin (about 20/30cm away) to wake up and tone up. Use before vegetable oil and/or day cream.
In the evening, spray floral water to complete make-up removal and in preparation for the night emptying treatment.
Also use floral water at any time of the day to refresh your face and/or your body.
Our tips
Spray on the skin of your face and neck after cleansing. Then apply your care cream or oil immediately to damp skin.
For softer, refreshed skin, apply a cotton ball soaked in fragrant verbena floral water before your day cream and after your evening make-up removal.
In order to reduce cellulite, apply verbena floral water locally, until completely absorbed. Repeat several times a week.
Ingredients
LIPPIA CITRIODORA LEAF WATER*, SODIUM BENZOATE, POTASSIUM SORBATE, CITRIC ACID, CITRAL, LIMONENE
* Ingredients from Organic Farming.
99.6% of the total ingredients are from natural origin.
22.5% of the total ingredients come from organic farming.
COSMOS ORGANIC certified by Ecocert Greenlife according to the COSMOS standard available at http://COSMOS.ecocert.com
Sorting instructions
Pump and bottle in the sorting bin
FAQ
How are floral waters stored?
The floral waters can be stored in a cool, dry place, away from heat, humidity and light. They can also be stored in the refrigerator (associating darkness and freshness).
How to know the optimal use-by date?
The DLUO (optimal use-by date) is present on the product label.
Can I ingest this floral water?
Our floral waters are intended for cosmetic use only.
Why are there preservatives in the floral water ingredients list ?
Floral waters are fragile products, very sensitive to light and heat, but also to microbial infections. Water-based, they promote the proliferation of bacteria. Therefore, they require more precautions, especially with regard to their conservation. This is why we add preservatives very commonly used in food and accepted by the Ecocert organization.
Why did I have an allergic reaction after using this floral water?
Floral waters are fragile products and we add preservatives very commonly used in food and accepted by the Ecocert organization. It happens that in some people, they cause skin reactions such as heating of the skin, redness, etc., which disappear after a few minutes after washing the skin with clear, cool water. We recommend doing a test before use on the inside of the elbow.