Dry skins

Nourishing

Dry touch

Day and night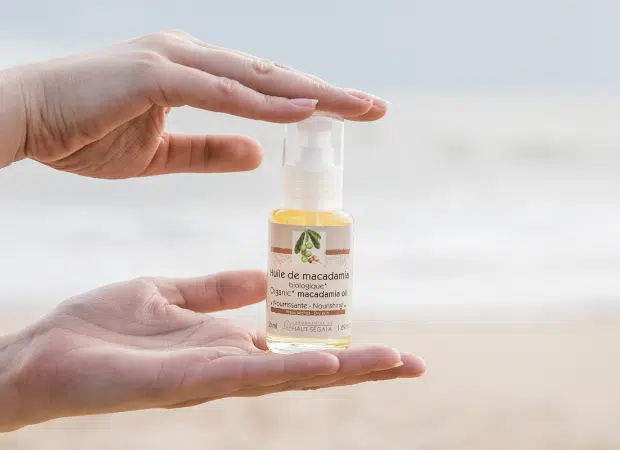 Oil from South Africa and Australia
Cosmebio and Ecocert certified
Virgin oil obtained by first cold pressing of walnuts
Packaged in France in our laboratory
Glass bottle and in a case to protect from light
Suitable for pregnant women
Pleasant smell, similar to hazelnut
Benefits

Face
Regulates sebum production
Nourishes and protects the skin
Soothes and softens dry, fragile and damaged skin

Body
Nourishes and protects the skin
Soothes and softens dry, fragile and damaged skin
Prevents the appearance of stretch marks

Hair
Hydrates damaged hair
Protects hair from external aggressions
Helps maintain hair color
Macadamia vegetable oil is a dry oil that quickly penetrates the skin thanks to its fluidity: no greasy feeling! Rich in Omega 9, it is nourishing, softening and soothing.
Rich in palmitic acid, which gives it an antioxidant effect on cells, as well as palmitoleic acid. Macadamia oil has a restructuring effect which strengthens the film formed by lipids in the skin, and thus improves its hydration.
It protects, softens and soothes the skin, and relieves stretch marks, chapping and cracks.
Applied to the hair, it offers the supply of hydration it lacks. Result: silky, shiny hair with vitality.
Finally, macadamia oil prevents the appearance of signs of aging, promotes healing and repairs damage caused by external aggressions (wind, sun, cold, etc.).
The richness of this oil allows you to use it as a mask in your hair, as an oil for your hands and your body.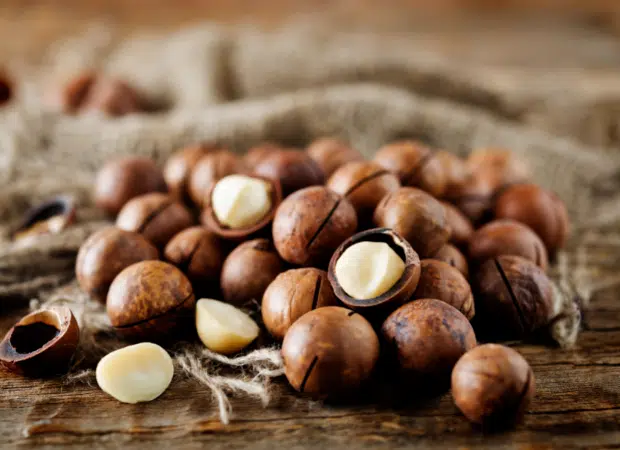 How to use it
In the morning and/or evening after removing make-up/cleansing your skin, gently massage a few drops of oil all over your face and/or your body.
This oil can also be used on hair in an oil bath: impregnate your hair (from scalp to ends) with this oil. Leave on for a minimum of 30 minutes or overnight (for maximum results) then shampoo, or as a finishing treatment: apply a few drops after my shampoo to damp or dry hair, preferably only on the lengths and ends.
Our tips
Used as a mask before sun exposure, it protects colored hair.
Ingredients
MACADAMIA TERNIFOLIA SEED OIL*
* Ingredients from Organic Farming.
100% of the total ingredients are from Organic Farming.
Ecological and organic cosmetics certified by ECOCERT Greenlife according to the ECOCERT standard available at http://cosmetiques.ecocert.com
Sorting instructions
Glass bottle in the glass bin - Case and pump in the sorting bin
FAQ
How are pure oils stored?
Pure plant oils should be stored in a cool, dry place, away from sunlight. You don't need to put them in the fridge.
Our cases are also present to protect our oils and especially their properties, guaranteeing them a better and longer conservation.
How to know the optimal use-by date?
The DLUO (optimal use-by date) is present on the case as well as on the product label.
What's a first cold-pressed oil?
A pure oil is obtained by the first cold pressing of carefully selected seeds, nuts, etc. Cold pressing is a mechanical extraction method that is carried out at low temperature, thus preserving all the properties and requiring no additives. This extraction method gives a pure and real oleaginous "fruit juice".
What is the difference between an oil extracted by first cold pressing and an oily macerate?
Some plants cannot produce oil by first cold pressing extraction. We then speak of oily macerates: part of the fresh or dry plant (flowers, fruits, leaves, etc.) macerates for several weeks in a neutral vegetable oil such as sunflower oil. The preparation is then filtered and makes it possible to obtain a pure oil enriched with the active ingredients contained in the plant.
How to recognize a quality pure plant oil?
There are many qualities of pure oils. In order to guarantee impeccable quality, it is sufficient to check whether the oil is:
• Virgin: this means that the oil has not undergone any treatment before or after pressing, it is a pure oil which has simply been filtered to remove any impurities.
• Extracted by first cold pressing or oily macerate.
• Certified ORGANIC: certification by the Ecocert organization and labeling by Cosmébio and Cosmos guarantees that the plant from which the oil originates has been produced according to the principles of Organic Agriculture, and that it does not there is no phytosanitary product in it.
All our pure oils are subject to rigorous analyzes before being put on sale (visual, olfactory, tactile, chromatographic and pesticide) to provide you with oils of irreproachable quality.
Why can the colors/odors of the oils vary?
Our pure oils may present olfactory and/or visual variations from one batch to another. As our oils are  natural, pure and not modified, their color and smell vary according to the environmental factors during the harvest such as the climatic and geographical conditions (sunshine, humidity, exposure, altitude, nature of the soil, etc.). This does not modify their intrinsic properties in any way. These visual/olfactory variations from one batch to another are therefore the result of total naturalness and in no way harm our vegetable oils. All our pure plant oils are subject to rigorous analyzes before being put on sale (visual, olfactory, tactile, chromatographic and pesticide) to provide you with oils of irreproachable quality.
Can I ingest this vegetable oil?
Our vegetable oils are intended for cosmetic use only.