Combination skins

Balancing

Liquid

Day and night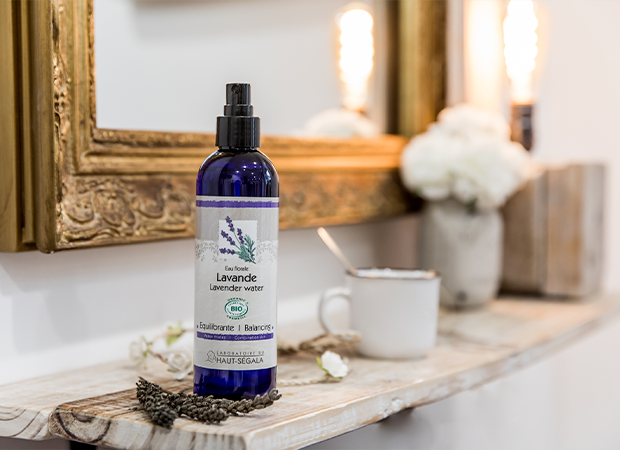 Cosmébio and Ecocert certified
Floral water obtained by distillation
Packaged in France in our laboratory
Suitable for pregnant women
Benefits

Face
Soothes irritated skin
Calms redness and itching
Balances and purifies combination to oily skin
Reduces minor skin imperfections
Tightens skin pores
Tones the epidermis
Helps fight the appearance of wrinkles

Body
Refreshes and soothes
Calms redness and itching

Hair
Prevents the appearance of dandruff
Soothes sensitive scalps
Balances oily hair
Lavender water, thanks to its purifying and calming properties, will soothe and refresh irritated or overheated skin, especially after make-up removal or
temperature changes. This floral water will stimulate and tone the epidermis.
Lavender floral water purifies and balances oily skin. It is often indicated to treat acne or oily areas, to promote healing, to disinfect pimples.
Applied to the scalp, it will soothe sensitive scalps, while fighting against the appearance of dandruff.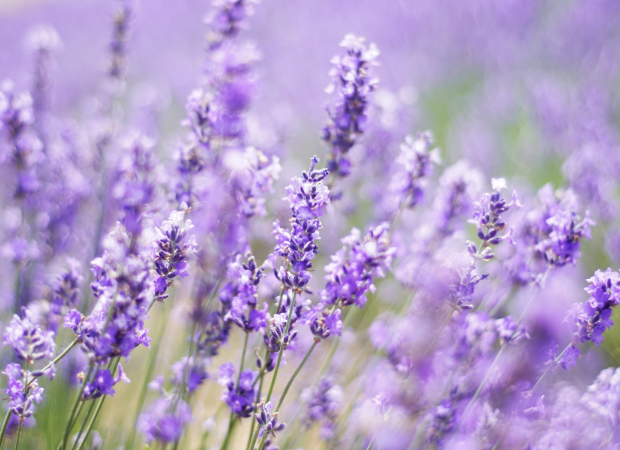 How to use it
In the morning, spray the floral water on a cotton ball or directly on your dry skin (about 20/30cm away) to wake up and tone up. Use before vegetable oil and/or day cream.
In the evening, spray floral water to complete make-up removal and in preparation for the night emptying treatment.
Also use floral water at any time of the day to refresh your face and/or your body.
Sprayed on the ends and lengths, the floral water will bring hydration and shine to the hair. To be applied to the scalp to soothe (spray then massage with the pulp of the fingers for a few minutes).
Our tips
To regulate oily skin, apply lavender water morning and evening using a cotton pad all over the face, emphasizing the "T zone" (forehead, nose, chin) before applying pressure. hazelnut or jojoba oil.
To eliminate lice on the head of children, make a mask with coconut oil and then a good shampoo to eliminate the oil. Rinse with lavender water.
Ingredients
LAVANDULA ANGUSTIFOLIA FLOWER WATER*, POTASSIUM SORBATE, CITRIC ACID, LINALOOL**, COUMARIN, GERANIOL, LIMONENE
* Ingredient from Organic Farming.
** Components naturally present in floral water.
99.8% of the total ingredients are from natural origin.
99.8% of the total ingredients are from Organic Farming.
Ecological and organic cosmetics certified by ECOCERT Greenlife according to the ECOCERT standard available at http://cosmetiques.ecocert.com
Sorting instructions
Pump and bottle in the sorting bin
FAQ
How are floral waters stored?
The floral waters can be stored in a cool, dry place, away from heat, humidity and light. They can also be stored in the refrigerator (associating darkness and freshness).
How to know the optimal use-by date?
The DLUO (optimal use-by date) is present on the product label.
Can I ingest this floral water?
Our floral waters are intended for cosmetic use only.
Why are there preservatives in the floral water ingredients list ?
Floral waters are fragile products, very sensitive to light and heat, but also to microbial infections. Water-based, they promote the proliferation of bacteria. Therefore, they require more precautions, especially with regard to their conservation. This is why we add preservatives very commonly used in food and accepted by the Ecocert organization.
Why did I have an allergic reaction after using this floral water?
Floral waters are fragile products and we add preservatives very commonly used in food and accepted by the Ecocert organization. It happens that in some people, they cause skin reactions such as heating of the skin, redness, etc., which disappear after a few minutes after washing the skin with clear, cool water. We recommend doing a test before use on the inside of the elbow.