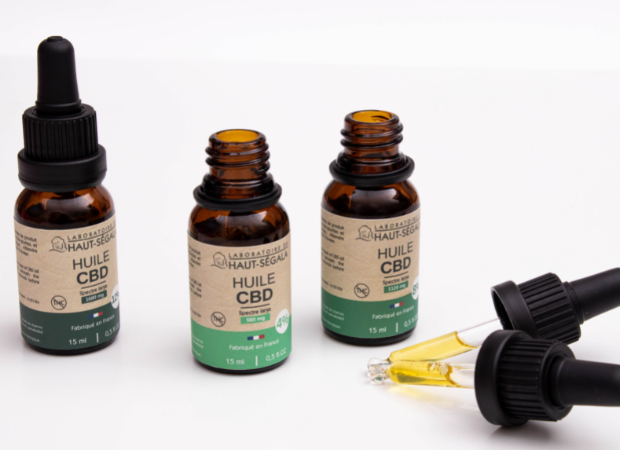 Organic hemp oil certified by Ecocert
The extraction of the oil and the purification of the THC is carried out thanks to a patented method and does not use any solvent
Brown glass bottle and slipcase
Characteristic, vegetal, slightly bitter, spicy and earthy taste, blending the flavor of CBD with the natural taste of virgin hemp oil
Broad spectrum CBD oil (no THC), rich in natural and organic cannabinoids, supports your daily life and promotes your well-being by participating in the proper functioning of your body.
Produced from hemp extract from flowers grown in Europe and certified organic hemp oil (Ecocert) from seeds grown in France, our 12% CBD oil is a quality and effective product for relieving various ailments. Daily :
✔Acts on stress and anxiety
✔ Helps promote rapid sleep and improve sleep quality
✔Acts on concentration and memory
✔ Relieves muscle and menstrual pain
✔ Zero THC
✔ Lab tested
✔ French seeds without GMO
✔ Made in France
On the same oil, the organoleptic qualities can vary according to many criteria such as the seeds selected, the extraction, the filtration, etc.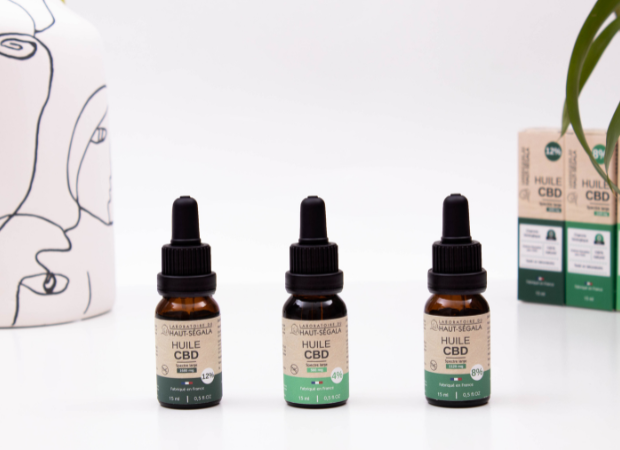 How to use it
Draw up the desired amount of oil with the dropper pipette and drop under the tongue, wait 30 to 60 seconds, then swallow.
We recommend a maximum dosage of 1 dropper per day. Evaluate the appropriate amount by observing the results regularly. Adjust if necessary.
Contraindications
Not recommended for pregnant and breastfeeding women and children. If taking treatment, do not use the product and seek advice from a health professional.
Ingredients
Hemp oil* (France), Broad-spectrum hemp extracts (Croatia) rich in cannabidiol (CBD).
* Ingredients from Organic Farming.
The organic hemp seed oil, used as a carrier for this oil, is rich in a perfect ratio of Omega 3 and 6 and offers exceptional bioavailability.
Our CBD-rich hemp extracts come from organic crops, certified for their level of quality. The extraction of the oil and the purification of the THC is carried out thanks to a patented method and does not use any solvent.
Sorting instructions
Glass bottle in the glass bin - Case and pipette in the recycle bin
FAQ
Is CBD legal?
CBD is legal in France and within the European Union. The judgment of November 19, 2020 handed down by the Court of Justice of the European Union in the context of the Kanavape case is the text serving as case law for all the Member States of the European Union for the marketing of products rich in cannabidiol. (CBD).
When to use CBD oil?
CBD Oil can be used throughout the day, in a single or multiple doses.
Which concentration of CBD to choose?
For a first use of CBD, it is recommended to start with a 4% or 8% CBD Oil. CBD oil 12% is the most concentrated, it is suitable for regular users.
The gradual method allows you to identify which dosage is best suited to your needs; starting with one pipette per day then adjusting according to the effects felt/desired.
Are there any side effects?
To date, no serious side effects have been recognized in the various clinical studies on CBD. However, some people report mild drowsiness or a dry mouth. In case of unusual sensation, it is recommended to stop using the product.
CBD Oil is not recommended for pregnant and breastfeeding women, children and people on medication.