All skin types

Detoxifying

Powder

Day
Famous natural clay of Morocco, rhassoul is extracted from places preserved without pollution. The mineral is dried in the sun and then sifted to make a very fine powder, easy to use in a beauty ritual.
This mineral clay is indicated for all skin types: oily, dry, sensitive, normal… It cleanses the skin in depth, without attacking it. It eliminates all impurities, particularly blackheads due to sebum, and leaves the skin particularly soft.
Rhassoul is also indicated for dry hair, oily hair and scalp irritations. It does not attack the protective sheath of the hair. It absorbs sebum and cleans the hair gently, without attacking it. Hair regains shine, suppleness and tone.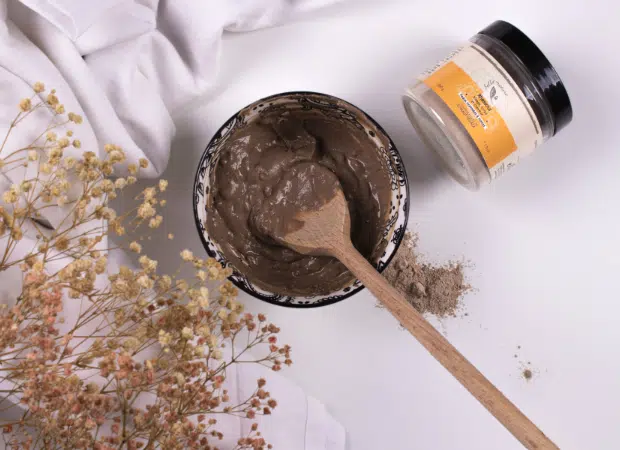 How to use it
For a face mask, mix the rhassoul with lukewarm water until you obtain a paste. Add a few drops of vegetable argan oil if you have dry skin.
For a mask for oily hair, make the same rhassoul mask once a week (with lukewarm water) and apply it with a brush to the hairline. Rinse by massaging lightly after 10 minutes of break. This mask will absorb excess sebum and cleanse the scalp, restoring volume and shine to the hair.
Our tips
For a softening mask, replace tap water with Rose floral water or any other floral water depending on your skin type.
Ingredients
Moroccan Lava Clay
Sorting instructions
Pot and lid in the sorting bin